Stories – Technologies
Trends & Technologies – How Comet is exploring for better
Ready for new challenges with an expanded product portfolio.
Comet reached important milestones in 2022 in expanding its product and service offering for the semiconductor and electronics market. It gained a foothold in the battery market and expanded its range of software solutions.
The IXS division in 2022 continued its redesign for greater standardization, modularity, and more efficient production processes.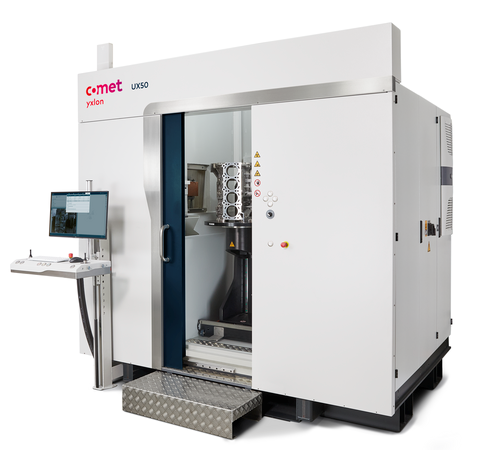 UX50
The versatile CT system with advanced software features
With the launch of the powerful UX50 CT system in February 2022, IXS has added an all-rounder to its product line-up for the inspection of large, dense components, such as castings for the automotive industry. The Geminy cross-system software platform makes it quick and easy for operators with different levels of expertise to use advanced software features for field-of-view extensions, image enhancement, and artifact reduction.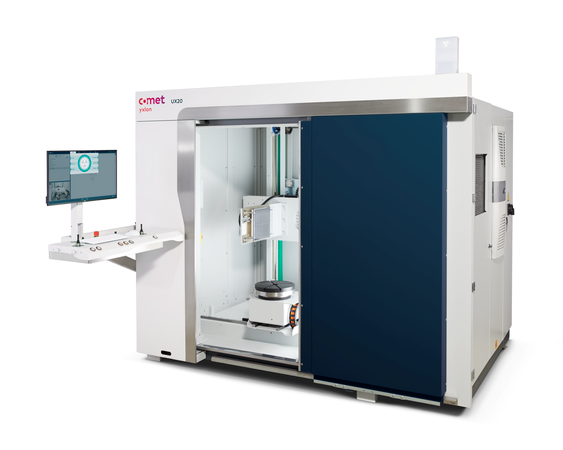 UX20
Now also available with the MesoFocus 225 kV tube
The new release of the UX20 radioscopy system with CT functionality now also offers the 225 kilovolt MesoFocus tube as an option. The new tube's robust, sealed design and the long-life, filament-free emitter technology ensure maintenance-free operation, extremely high availability and more than 20,000 operating hours. The MesoFocus is therefore also the perfect radiation source for series testing.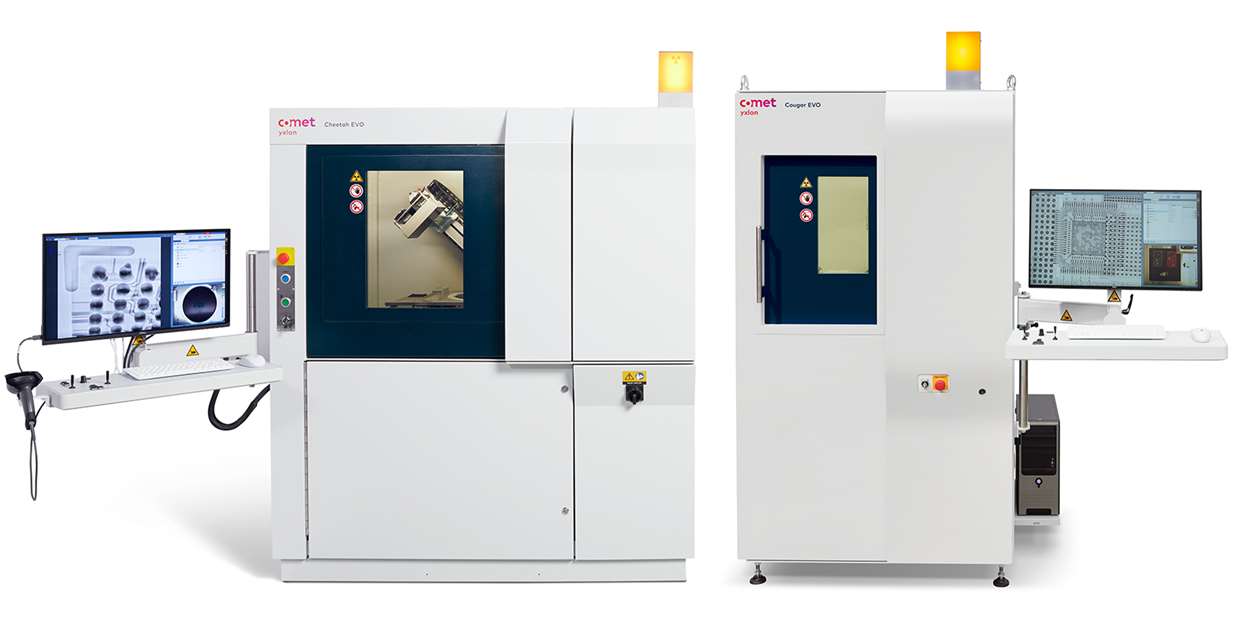 Cougar EVO and Cheetah EVO
The compact solution for semiconductor and electronics inspection with evaluation workflows powered by deep learning
Ready for new challenges with an expanded product portfolio.
The system release 6.0 of the two microfocus systems Cheetah EVO and Cougar EVO for use in the semiconductor and electronics sector comes with significant innovations: The optional FXT 160.51 water-cooled x-ray tube ensures a stable focal spot through consistent heat dissipation, even during extended operation. The new dose monitoring with an alarm function offers additional protection for particularly radiation-sensitive electronic components containing silicon. The series of automated inspection processes based on ORS's Dragonfly software was expanded to include two additional variants.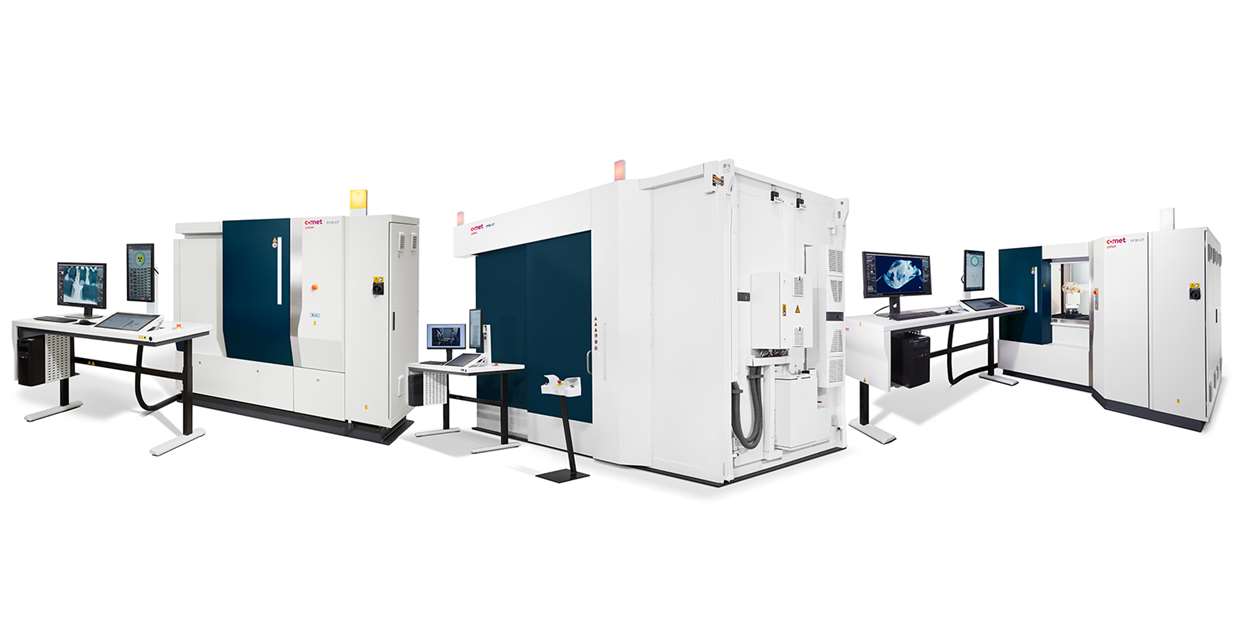 FF20/35/85 CT
The FF CT product family for industrial laboratory applications
The FF CT product family consists of three high-resolution computed tomography systems for detailed laboratory analyses in the electronics, automotive and aerospace industries as well as in research and development. The FF20 CT and FF35 CT microfocus systems are specially designed for the inspection of small to medium-sized parts, primarily for the electronics sector. Thanks to SEMI certification, the FF35 CT SEMI is particularly suitable for analyses in the semiconductor industry. The FF85 CT is the most flexible high-resolution CT system of its generation. It can be equipped with a flat-panel detector and the IXS line detector CTScan 3. In addition, dual microfocus and minifocus tube configurations are available, as well as (since the latest release) the tube combination of MesoFocus 450 kV and minifocus.
VistaX packages
Software tools for optimal detail resolution, high speed and productivity
In addition to outstanding inspection results combined with simple operation, the key criteria for CT users in particular are speed and productivity. IXS has bundled its outstanding software features into packages that customers can select according to their individual requirements.
In 2022 the IXM division took advantage of the trend toward miniaturization, which is becoming increasingly important in the growing markets of electronics and battery inspection and additive manufacturing.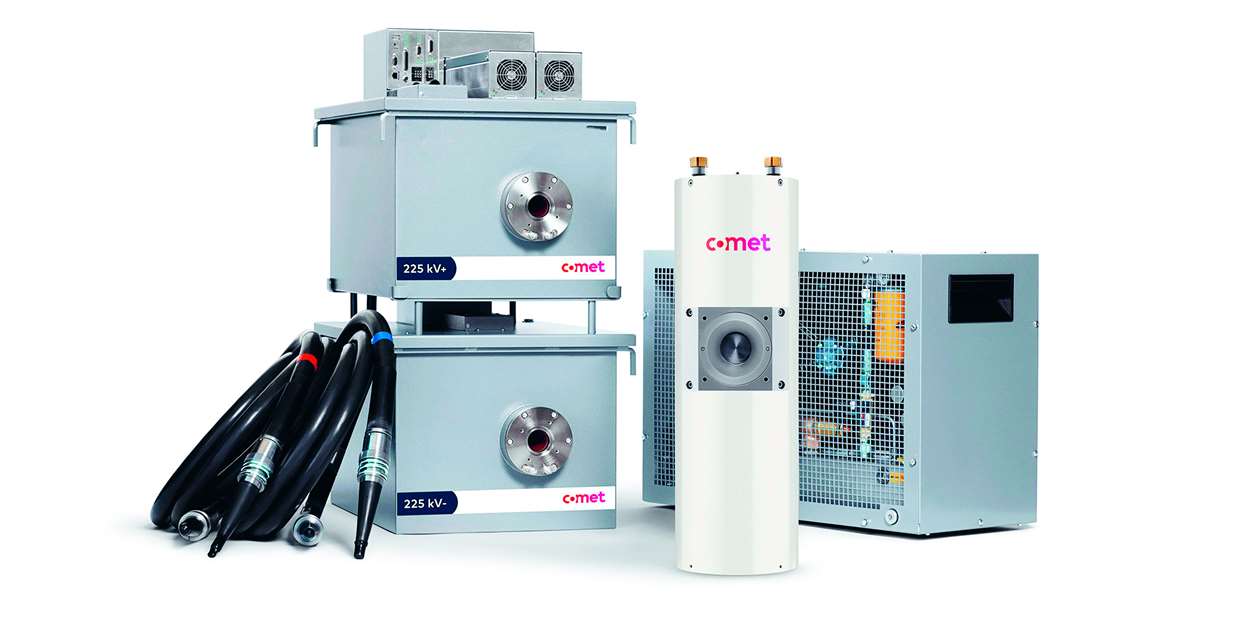 MesoFocus 450kV
The award-winning inspection technology for additive manufacturing and batteries
The latest x-ray module in the MesoFocus product series is specifically designed to resolve artifacts in the 30–200 micrometer range in large and dense additive components and other complex structures requiring reliable micro-failure detection.
The award-winning MesoFocus technology makes quality inspection more efficient in emerging applications, whether in-line, at-line or in the lab. Flexibility, stability, high throughput and ease of use are the key advantages.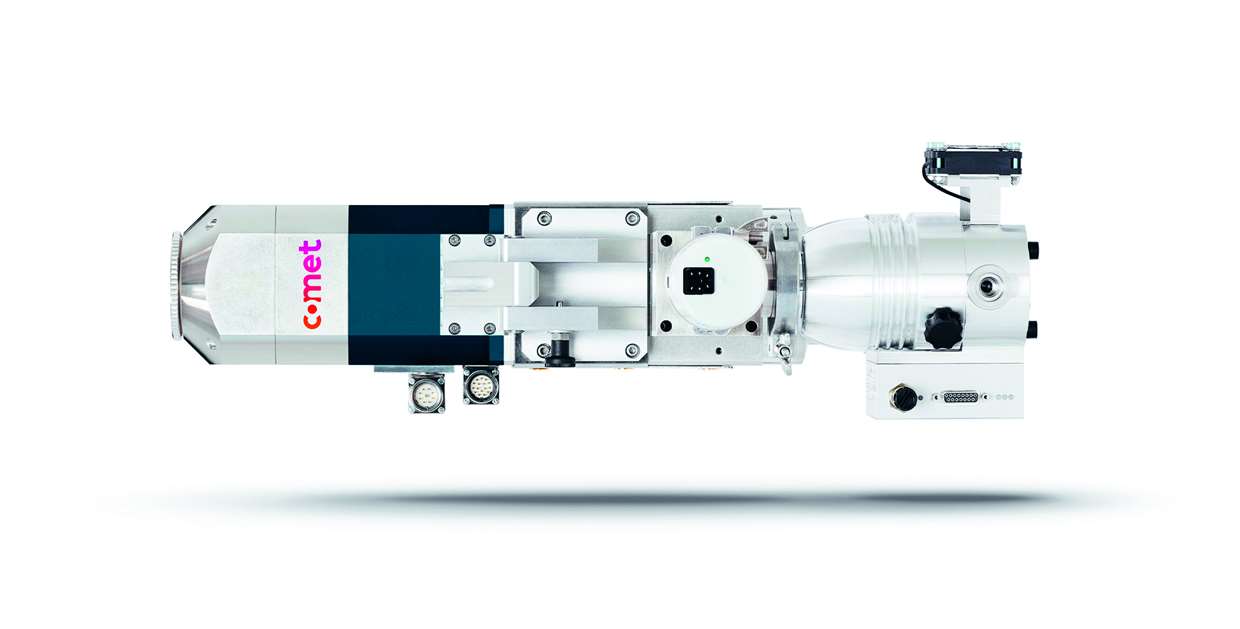 FXE series
High-resolution modules responding to the growing customer demand for inspection of ever smaller parts
The FXE series is designed for non-destructive quality assurance, off-line inspection, and measurements of parts with defects in the low micrometer range.
The microfocus and nanofocus resolution x-ray modules allow clear feature recognition in electronics, notably in printed circuit board assemblies, ball grid arrays and integrated circuits, semiconductor packaging, micro-electromechanical systems, and battery cell inspection.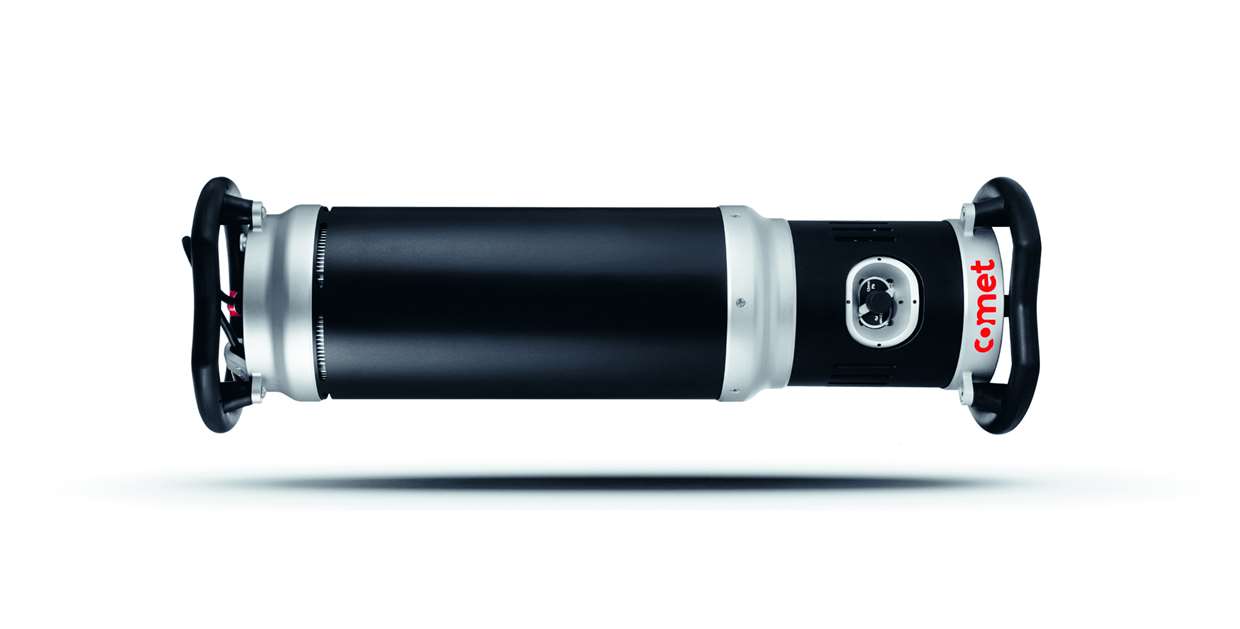 EVO 300D/1200
Portable x-ray system perfect for high-performance field inspection
Up to 30% savings in exposure time compared to traditional 300 kV portable solutions.
The newest module in the EVO series features a superior combination of 300 kV and 1200 W constant potential x-ray power for extreme performance – making it ideally suited for all high-performance field inspection jobs.
Plasma Control Technologies (PCT)
For the PCT division, 2022 was defined by the launch of its new Synertia® product platform. But PCT also fielded innovations in vacuum capacitors and RF matches, such as offering more power in a smaller form factor.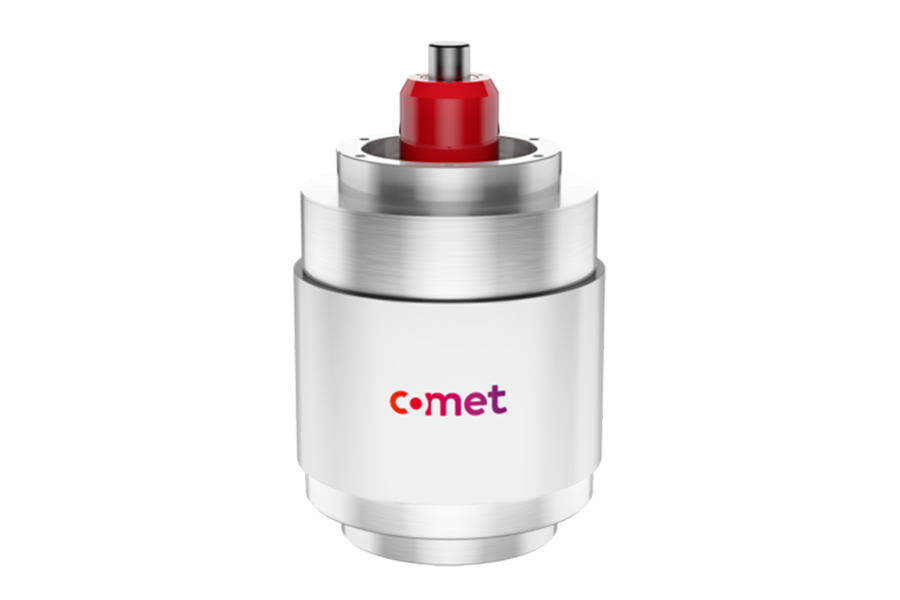 Tetra-Con
Vacuum capacitors with higher voltage and capacitance in a compact size
High power is a key requirement especially for power-intensive etch applications. Comet therefore developed Tetra-Con, a new variable vacuum capacitor series, to reduce the footprint, allow efficient use of space in the matching network, and increase design flexibility.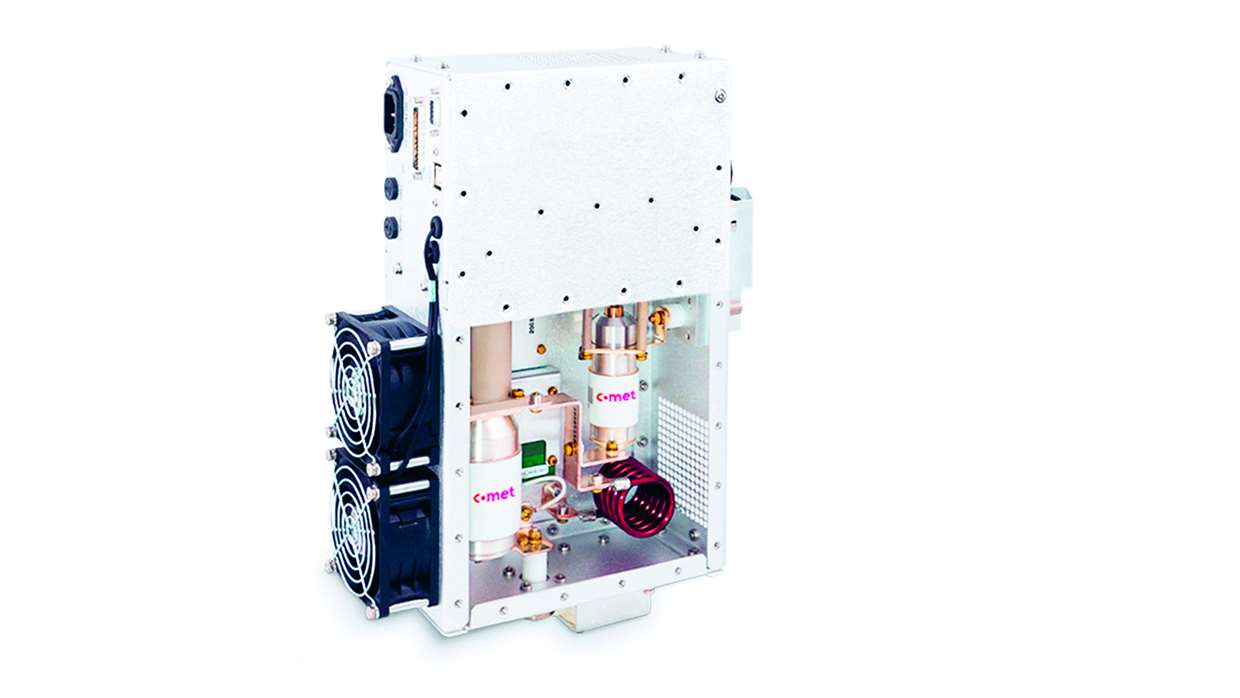 Impedance matching networks
Improved performance of customized RF matches
Impedance matching networks, or matches, are highly customized power delivery subsystems that enable a wide variety of application-specific solutions deployed in leading-edge semiconductor plasma processes. Comet delivered many new designs in 2022 that provide superior performance in our customers' systems.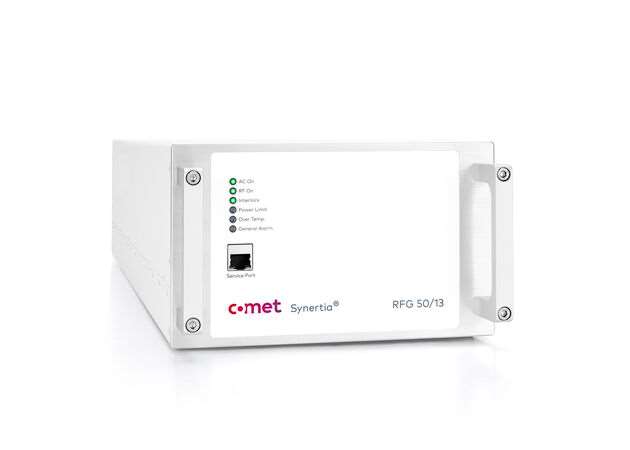 Synertia® RF p

ower delivery platform
The new integrated platform enables the unprecedented power delivery control required by plasma process tools for the next generation of microchips.
Synertia® ensures powerful command and control of plasma conditions at highest speeds. The fully integrated system allows the complexities of next-generation memory and advanced logic to be managed across all atomic-scale plasma processes. The Synertia® platform consists of RF generators and RF matching networks with a wide range of frequencies and power levels. The first generator products were launched in 2022, with more frequencies and matching network solutions to follow soon.
Object Research Systems (ORS)
The focus of the ORS team in 2022 was on the further development of its well-known Dragonfly software.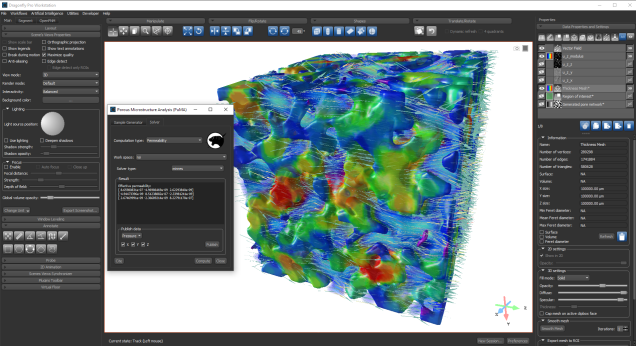 Dragonfly
Advanced AI capabilities for post-processing, quantification, and 3D modeling for the analysis of scientific and industrial image data
ORS released two software versions of Dragonfly in 2022. The latest release featured deep learning refinements, pre-trained deep models, solid meshing for simulation workflows, as well as elastic registration tools to characterize the deformation of materials.
The other release includes the integration of NASA's Porous Microstructure Analysis (PuMA) software for performing material response simulations, new deep learning architectures for noise-to-void denoising, and many other new features.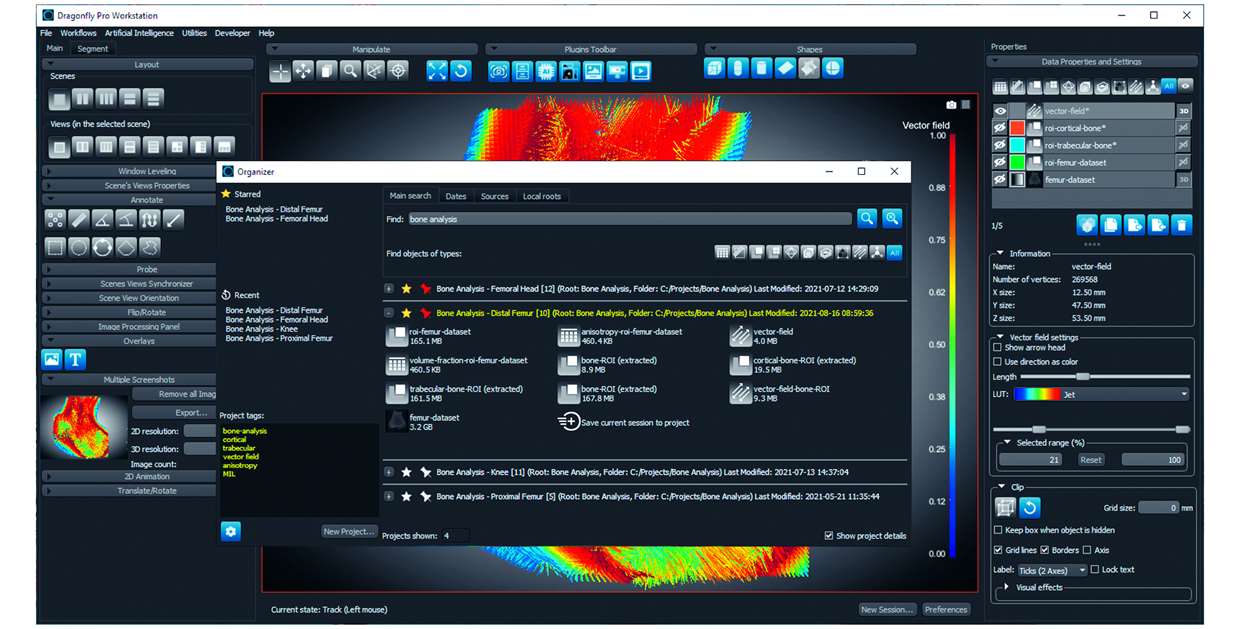 Dragonfly Enterprise
Centralized visualization, computation, and data management
For large imaging centers and research facilities, ORS introduced its next-generation version of Dragonfly VizServer, which provides high-performance image processing from any device on enterprise networks. This offering for the Dragonfly Enterprise platform promotes collaboration among researchers, facilitates the management of large data and hardware resources, and reduces IT costs.